Did you know businesses with a strong social media presence generate 66% more leads than those without? Given these numbers, it's not surprising that many businesses are investing in their online presence. So, what are the most powerful ways to boost your social media visibility?
---
TL;DR
Brands are missing out on huge business potential by not signing up for social media management. A social media team can manage your digital outlook, ensuring your business reaches maximum eyeballs.
You need to implement unique strategies consistently to champion social media. A dedicated social media manager can execute your strategies making sure you achieve your objectives.
---
In this blog post, we'll share ten tried and tested methods of boosting social media presence. So read on to take your social media game to the next level!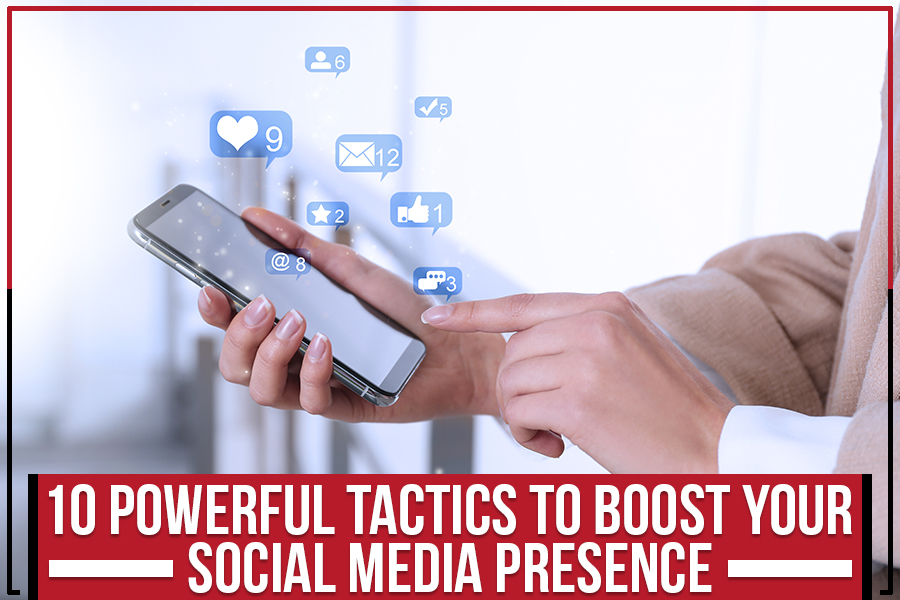 The Importance of social media for Businesses of All Sizes:
Social media is a great way for consumers to find new products and businesses and research potential purchases. It influences the buying decisions of 81% of consumers.
If you're not present on social media, you miss out on huge opportunities to connect with potential customers daily. And even if you are present, there's always room for improvement. After all, social media is constantly evolving, and what works today might not work tomorrow.
Social media is especially important for small businesses
Social media presents a great opportunity for small businesses to showcase their products and services. Businesses that may not have the budget for traditional marketing channels like television or print ad, can use the platforms to create a credible online reputation. They can also reach a bigger audience build brand awareness by investing time and resources into social media.
10 Tactics to Boost Your Social Media Presence:
Now that we've discussed the significance of social media for businesses, let's get into some tactics you can use to boost your social media presence.
Here are ten powerful tactics to get you started:
Tactic #01: Understand Your Audience
The first step to boosting your social media presence is understanding who your target audience is. Research their demographics. What are their interests? What problems do they need to solve? Once you truly understand your target audience, you can create content that appeals to them and meets their needs.
Tactic #02: Use Visual Content
Humans are visual creatures and are way more likely to engage with easy content on the eyes. So if you want to grab people's attention and boost your social media presence, start using more visual content. That could include images, infographics, videos, and even live streaming.
Tactic #03: Engage with Your Followers
Another great way to boost your social media presence is to engage with your followers. That means responding to comments, liking and sharing their content, and being active on social media. When you engage with your followers, they'll be more likely to reciprocate and engage with your content.
Read more: 15 Essential Social Media Marketing Tips from Beginner to Advanced
Tactic #04: Use Hashtags
Hashtags are a wonderful way to get your content seen by more people. When you use relevant hashtags, your content is more likely to appear in search results. And the more people see your content, the higher the chance of them following you and engaging with your brand.
Tactic #05: Be Consistent
The best-kept secret to a successful social media strategy is being consistent. You must post regularly to build a following and increase your social media presence. But don't worry, you don't have to post all the time. Once or twice per day is just enough. Just ensure you're consistent with the days and times you post.
Tactic #06: Monitor and Analyze Your Progress
You won't be able to improve your social media presence if you don't know what's working and what isn't. That's why monitoring your progress and analyzing your results is important. Look at the number of new followers you're getting, the engagement rates on your posts, and the reach of your content. That will give you a fine idea of what's working and what you need to improve.
Tactic #07: Keep Your Content Fresh and Relevant
If you want people to keep coming back to your social media pages, you need to ensure you're always posting fresh and relevant content. No one wants to see the same old thing over and over again.
That's why mixing things up is important and keeping your content fresh. Try posting different types of content, like videos, infographics, images, articles, and more.
Tactic #08: Evolve With the Times
Social media is always changing, so you must change with it. You will fall behind if you still use the same social media tactics you used a few years ago. Keep your eye on the latest social media trends and ensure you're using the latest features.
For example, if you're not using Instagram Stories, you're missing out on a huge opportunity to connect with your audience.
Tactic #09: Get Help from an Expert
If you're serious about social media, you might consider working with a social media expert. They can help you develop a social media strategy, create content, and grow your following. Investing in social media help can be a great way to take your social media presence to the next level.
If you're searching for social media assistance, there's no better place to go than No Limit Social. We create customized social media packages to assist firms in developing their online presence. Contact us today to discover more!
Tactic #10: Make Sure Your Timing is Right
It's not enough to post great content on social media. You also need to make sure you're posting at the right time. The best times to post on social media vary depending on your platform.
For example, the best time to post on Instagram is during the evening, while the most promising time to post on Facebook is during the afternoon. Make sure you do your research and post at times when your audience is most active!
The Final Verdict:
So there you have it! Ten scientifically proven tactics that will help boost your social media presence. Now get out there and start implementing them!
But remember, Rome wasn't built in a day, and neither will your social media following. But if you consistently use these tips, you will see a significant increase in followers and engagement.
No Limit Social is perfect for you if you want to improve your social media marketing skills or start with social media marketing. Our team can provide guidance and tips so that you can take your business to the next level! So what are you waiting for? Boost your social media presence now!
---